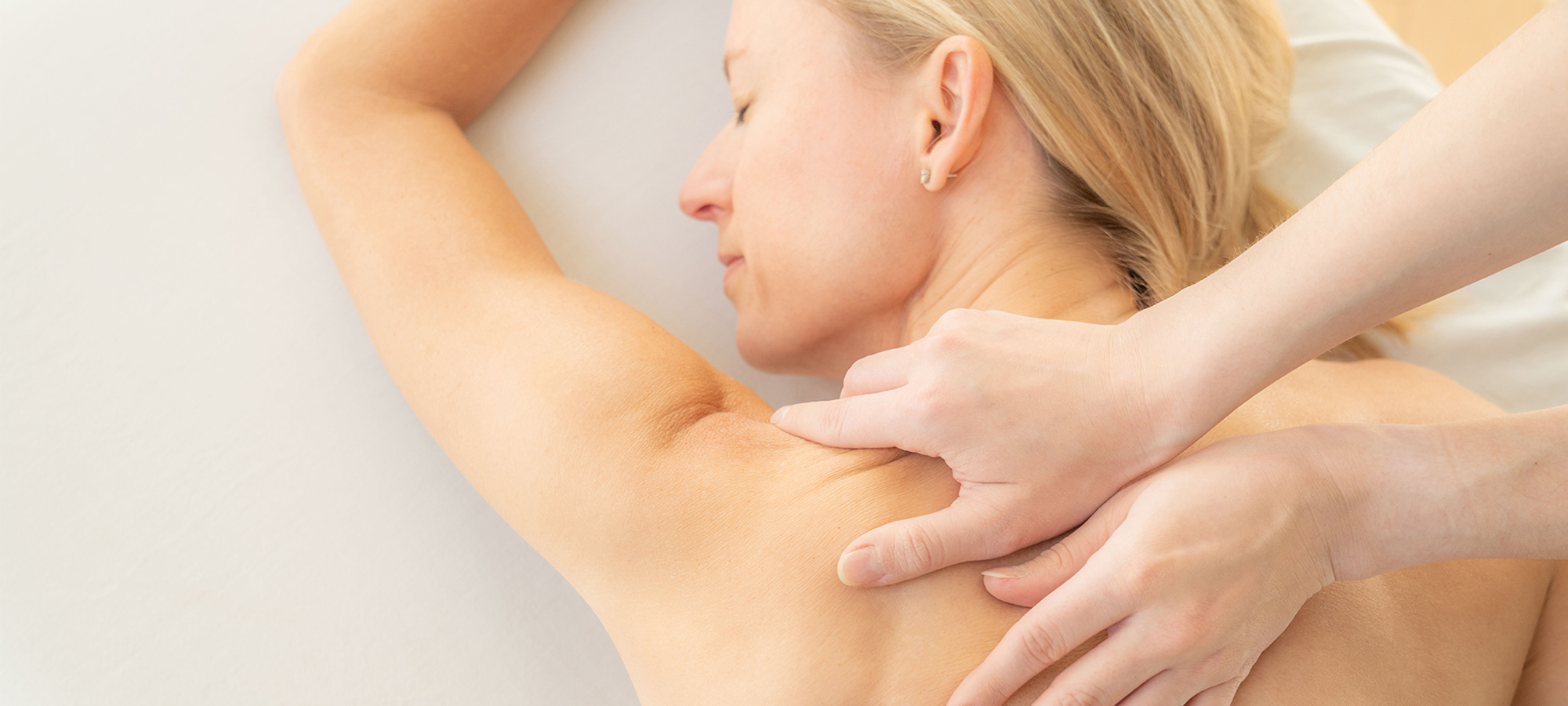 Massage therapy is an effective, soft tissue technique that promotes healing, stress reduction, improved circulation and muscle release.
During your first session, your provider will take a detailed history regarding any past or current injuries, medications, current lifestyle, sleep quality, diet and exercise frequency. Based on your goals and any contraindications, the therapist will conduct your session accordingly. Afterward, the therapist will review the session, discuss continued care and, with the client's permission, correspond with any healthcare providers on any necessary recommendations.

MASSAGE METHODS
Wellness Massage
A wellness massage is a holistic treatment that focuses on relaxing muscle tissue and supporting the body's natural healing process. Key benefits include increasing blood flow to joints and muscles, flushing toxins and reducing stress.
Medical Massage
This method addresses specific injuries and medical conditions to alleviate pain and promote recovery. It can work for a variety of clients, including those suffering from back pain as well as athletes with sports injuries. A medical massage may include modalities such as Deep Tissue Massage, Trigger Point Therapy, Myofascial Release and Lymphatic Drainage.
Sports Massage
Ideal for athletes of all levels including elites, youth, collegiate and weekend warriors. It focuses on the areas of the body that are overused and stressed during training and exercise. A sports massage is based on sport, stage of injury and goals. Athletes use sports massages as a recovery and performance optimization tool. The method utilizes a mixture of techniques ranging from Swedish, Deep Tissue, Neuromuscular Therapy, Myofacial Release, and Facilitated Stretching.
Benefits include enhanced athletic performance, fewer injuries and faster recovery. One will also find restored flexibility and range of motion, removal of lactic acid buildup and reduced stress. It will also help you maintain your body in excellent condition, prolonging your athletic career.
MEET OUR MASSAGE THERAPISTS
At Performance, our massage therapists can work directly with your therapist or trainer to provide a customized session based on your medical history and overall health goals.
FAQs
How often should I receive a massage?
The frequency of sessions varies depending on the client's needs and goals. With acute issues or injuries, the massage therapist may recommend getting them often at first, lowering the frequency over time.
Do I need a release from my physician or physical therapist for medical massage?
No, but it is best practice to consult your physician or physical therapist when incorporating massage as a treatment modality. At Performance, our goal is to point you in the right direction based on the needs of your body after a comprehensive examination.
Will I need to completely undress?
The client should undress to the level they feel most comfortable. It is typical for a client to undress the areas of which are the main focus of the massage. For example, the client will remove their shirt if the upper back is the area of focus. Leaving undergarments on is fine, as long as they allow exposure to the affected area. Our therapists will also answer any questions before the session begins to further guide the client.
The goal of a session is not to inflict any intolerable pain. However, clients oftentimes develop knots, contractures, or trigger points that require stronger bodywork and may cause discomfort. The therapist is trained to communicate with the client on acceptable levels of pressure and will back off if the pressure becomes too great or uncomfortable.
Can a sports massage help with lactic acid build up?
Yes. During strenuous anaerobic exercise, the lactic acid levels can rise, causing fatigue, decreased blood flow to the area and elevated levels of soreness. A sports massage promotes recovery to these affected areas by flushing the lactic acid build up and circulating re-oxygenated blood.
Should I get a sports massage before or after a heavy workout or competition?
A sports massage can benefit an athlete before and after a competition or workout. We recommend you get input from your therapist or trainer/coach to determine the optimal timing for a session based on your training and competition schedule.