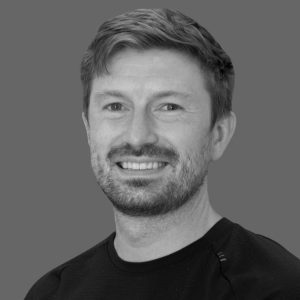 Exercise Physiologist
BS in Exercise Science, Southern Connecticut State University
---
Advanced Cardiac Life Support Certified (ACLS)
---
Jamie Stuart
Westport
"I take concerns seriously and leave no issue unaddressed. My goal is to deliver exceptional client-centered care each and every time I come in to work."
Jamie Stuart is an exercise physiologist who specializes in bariatric weight management, autonomic nervous system and arterial stiffness, as well as working with clients with cardiovascular diseases, pulmonary diseases or metabolic syndromes such as diabetes.
As an exercise physiologist, Jamie enjoys helping people get back on their feet and perform daily activities while removing limitations for them. He had seen friends and family members throughout his life struggle with obesity and mobility issues, which motivated him to pursue a career path in the field.
Jamie previously worked for Griffin Hospital, focusing on cardiac rehab, pulmonary rehab, weight management, diabetes management and other wellness programs. He also worked at Bridgeport Hospital, where he also specialized in cardiac rehabilitation.
Prior to this, Jamie was a visiting research scholar, in Shanghai, China, where he developed adolescent hypertension screening techniques for the ministry of education. He also served as an exercise instructor and nutrition educator for the Bright Bodies pre-diabetes program through the Yale Center for Clinical Investigation and Pediatric Endocrinology.
He is currently pursuing a Masters in Exercise Science from the Southern Connecticut State University, as well as certifications in strength and conditioning (CSCS) and exercise physiology (CEP).