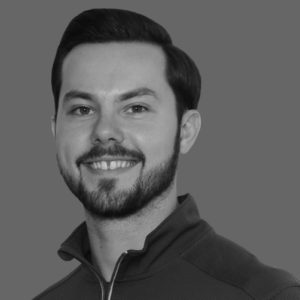 Personal Trainer
BS in Athletic Training, Sacred Heart University
MS in Exercise Science and Nutrition, Sacred Heart University
---
Certified Athletic Trainer (ATC)
Certified Strength and Conditioning Specialist (CSCS)
Functional Range Conditioning Mobility Specialist (FRCms)
---
Mathew Welch
Greenwich
"When I'm coaching, I feel like I am in my element. It's rewarding to be in a job where I am happy with what I do."
Mathew Welch, ATC, CSCS, FRCms, has worked with all levels of athletes, from high school to the professional level, creating and implementing strength and conditioning programs across various sports such as hockey, football, lacrosse, golf, rowing and more.
Mathew combines his special interests of strength and power training, energy systems development and athletic testing and monitoring to create individualized programs for every athlete. In addition, he educates every client on how to build sustainable habits both inside and outside of the gym that help them achieve Optimal Health and performance.
Mat uses the acronym ACE (Accountability, Consistency, Effort) to help his clients focus on accomplishing their goals. By focusing on not only the outcome, but the process as well, he helps people optimize their health and achieve their goals.
HAVE A QUESTION? ASK

Mathew