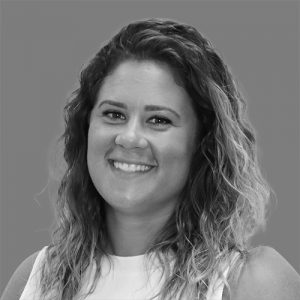 Personal Trainer
BS in Athletic Training, East Stroudsburg University
MS in Exercise Science,  Concetration in Strength and Conditioning, East Stroudsburg University
---
Certified Strength and Conditioning Specialist (CSCS)
Certified Athletic Trainer (ATC)
Reflexive Performance Reset (Level 1)
USA Weightlifting (Level 1)
---
Megan Kudrick
Westport
"Your problems are my problems. Your goals are my goals."
Megan Kudrick, CSCS, ATC, divides her time between Westport and New Canaan. She studied at the Postural Restoration Institute, which provided her with a new lens for examining the effect of movement, position and exercise on the body.
Megan's past injuries opened her to the world of recovery, and she became intrigued with how the human body functions. As an intern doing rehabilitation for soccer athletes during their pre-season, she saw how their lack of strength poorly impacted their performance. As a collegiate rugby player and triathlete at the time, she decided that she wanted to pursue a career on the other side of the athletics world: helping people recover and reduce future injuries.
With a focus on strength and conditioning, Megan can navigate around any injury to continue working toward your goals. She teaches her clients how to take care of themselves and understand why training is important for success, empowering them to take control over their own Optimal Health journey.
HAVE A QUESTION? ASK Megan