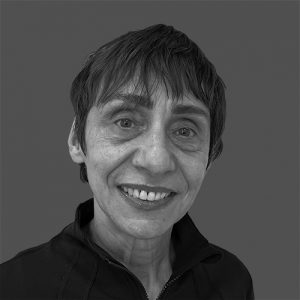 Massage Therapist
Connecticut Center for Massage Therapy
---
Licensed Massage Therapist
Board Certified in Therapeutic Massage and Bodywork (BCTMB) 
Certified Reflexologist 
---
Nanette Ginise
Greenwich
"As a massage therapist, I want to be a part of people's self-care — and their healthcare."
Nanette Ginise, LMT, BCTMB, is a massage therapist based in Greenwich. She is dedicated to continuing education; she taught at the Connecticut Center for Massage Therapy herself, and has been a member of the American Massage Therapy Association for over 25 years.
As a former physical therapy client at Performance herself, Nanette is particularly excited to work closely with the physical therapists here and help clients feel good as they transition from the physical therapy table to the massage table. Nanette is well-versed in Swedish and Therapeutic Massage.
In her off time, you can find Nanette cooking up a storm. She particularly enjoys making Jamaican and Mexican dishes and exploring the complex flavors and different produce.