Are you working from home? How's your lunch game?
Working from home means eating lunch is a whole different ballgame: cooking can get boring, or you can run out of ideas. Here are some tips and tricks to combat that boredom and find new ways to enjoy your lunch.
Nov 15, 2020
Jacqueline Ballou Erdos, CCSD, CDN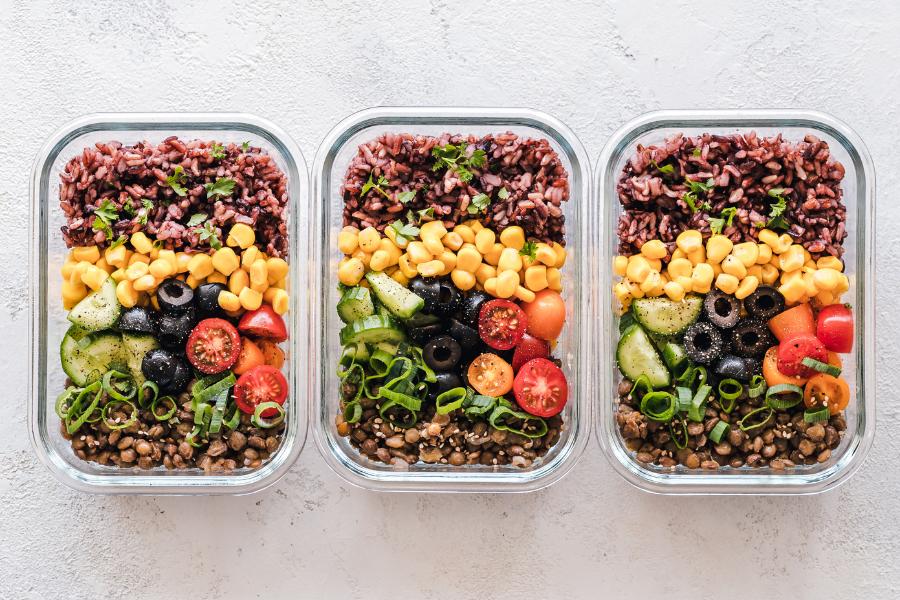 With so many of us working from home these days, eating looks a lot different than it used to. Whether you typically work in Manhattan or New Canaan, you had your choice of quick, healthy lunch options. Nowadays you might be working remotely from home and struggling to replicate that gourmet salad you used to grab from the place around the corner. Even if you do have a recipe in mind, you may not be able to find the time to make your own lunch every day. But you are not alone! I want to share with you some of the most common complaints I've heard when it comes to working from home and eating, as well as some of my favorite meal prep hacks.
"It's 4:00 p.m. and all I've had today is a bagel."
We've all been there. Back-to-back Zoom meetings get ahead of you, and suddenly you realize you missed lunch. Some tend to eat more when we are busy or stressed. Others can get so wrapped up in work they lose the sensation of hunger and end up under-fueling. Either situation can lead to feeling less than ideal later in the day.
So, how do you avoid that afternoon slump in energy?
Prioritize meals and snacks, not just work! You can set reminders for yourself every three to five hours to have a meal or snack. Or you can block 30 minutes in your calendar for lunch every day to make it as important as work.
"I'm.so.done.with.meal.prep."
One of the reasons I loved living and working in Manhattan was that I never had to cook if I did not want to. Cue the pandemic: never before were so many of us thrust into the meal prep world. Some of us went kicking and screaming, while others embraced their inner chef. Either way, meal prep fatigue is real.
What should you do if quarantine didn't turn you into someone who's baking their own sourdough bread from scratch?
Let someone else plan and prep for you. If you can face the line (or shop at odd hours), Trader Joe's offers so many delicious prepared salads, salad kits and everchanging prepared dinners that can double as lunches the next day.
Rather have your meals delivered to your door?
There are many services and subscriptions that let you choose from various prepared recipes that you can use! Each week they send you either the pre-made meal or the exact ingredients you need for the recipes of your choice, making it easier to plan your meals. Gone are the days when you must think about all your meals in advance. Sunbasket, for example, is known for its healthy, mostly organic and delicious dinner meal kit delivery subscription. But did you know they also have quick lunch options, as well as breakfasts and snacks? Another option is Fresh Direct, which has many heat-and-eat options for delivery in addition to an array of meal kits.
"There is no place like home (cooking)!"
What if the pandemic made you realize you actually enjoy cooking (bring on the meal prep!)? Here are some of our favorite sources of inspiration for recipes:
Whether you have been back to Sweetgreen or not, we are here for you when it comes to nutrition and meal prep! You've got this.
Copyright © Performance 2019. All right reserved.
Sign up for our mailing list to learn more about Performance, stay up-to-date on our offerings, and receive our newsletter.
Copyright © Performance 2023. All rights reserved.
Digital Marketing by Rebel Interactive Group