Couch to Competition: The Webinar Series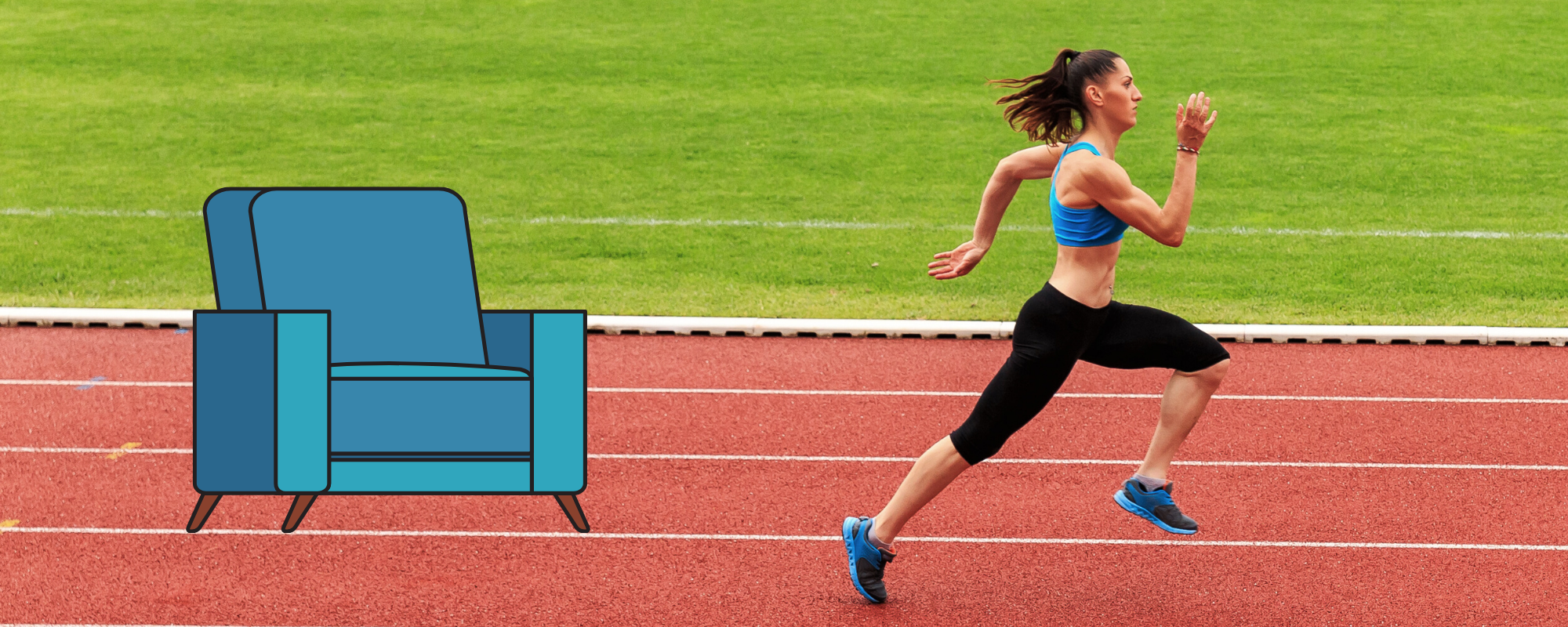 As the spring sports seasons are rolling in, athletes of all ages and competition levels are working their way back to peak form.
Over the next five weeks, we will be hosting a free webinar each week aimed at providing education and advice for athletes getting ready to get back to regular play. Each webinar will include a featured guest as well as a Q&A at the end.
All webinars and presentations will be recorded and uploaded to continue serving as resources for our community.
Playing LAX to the max
As a result of the pandemic, we've seen how a shortened or lacking pre-season can be a major risk factor for injury upon return to sport. This issue persists throughout all levels of athletics, but especially so in field sport athletes such as lacrosse players. In the first part of our webinar series, Shane Foley, DPT and Dr. Paul Sethi will prepare athletes to return to playing lacrosse safely and perform at their best. They will address and mitigate risk factors, discuss strength and conditioning principles to help prepare and maximize performance, talk about off-field training and review proper recovery strategies.
Shane Foley, DPT, OCS, CSCS
Shane Foley, DPT, OCS, CSCS, combines his advanced research, knowledge and skills as an orthopedic specialist along with his background as a certified strength and conditioning specialist to provide the optimal analysis for his patients. He is also passionate about helping his patients return to sport following an injury.
Paul Sethi, MD, is a board-certified orthopedic surgeon who specializes in sports medicine conditions of the elbow, knee and shoulder. He has years of experience researching sports-related injuries and conditions, and currently serves as team physician to Greenwich High School, Brunswick High School and Iona Preparatory High School.
Getting in the baseball zone
Baseball season is right around the corner! Mike Semancik, DPT, and Brian Kuruc, DPT, are joined by Frank Alexander, MS, to prep for the upcoming baseball season. They explore the importance of appropriate build-up into the season, taking care of your body, optimizing performance and reducing risk of injury.
Brian Kuruc, DPT, ATC, has plenty of experience on the field. He has completed several advanced clinical rotations, including Spring Training with the San Francisco Giants. Brian enjoys working with athletes of all ages: he used to work with minor league players on injury rehabilitation programs and currently serves as a physical therapist and athletic trainer for the Westport PAL Youth Football League.
Michael Semancik, DPT, specializes in working with young athletes, specifically with rowers, hockey players and football players. Michael also brings this passion with him outside of the clinic: He formerly served as the physical therapist for various teams at Princeton University, including men's hockey and football as well as women's lightweight crew and volleyball.
Frank Alexander, MS, ATC, is the physician extender for Dr. Chris Ahmad, the team physician for the New York Yankees. An athlete himself, Frank played baseball and football in high school and continued his baseball career in college. Now, he is responsible for history taking, evaluation of throwing athletes, patient education, and post-operative care and instruction, such as removing sutures and seeing patients in the recovery room for Dr. Ahmad.
Find the fault in your golf swing
Are you a golfer who struggles to get through a round of 18 without any aches or pains? Or are you looking to improve your off-season training or mobility to prevent injuries and improve your game? Join Dr. Andrew Creighton and Benny Salanitro, DPT as they discuss three of the most common injuries found in the everyday golfer. During the webinar, they will examine common golf injuries how they may be correlated to several common swing faults and orthopedic limitations. Then, they will review several mobility and strengthening exercises that all golfers should implement into their off-course training sessions.
Benny Salanitro, DPT, is a Titleist Performance Institute Level 1 Certified Instructor at Performance Optimal Health. He provides clients with the best, research-based care possible, empowering them to live better. Benny has experience working with several high school and collegiate athletes, including those at Scarsdale High School and Manhattanville College.
Dr. Andrew Creighton, DO, is an assistant attending physiatrist at Hospital for Special Surgery. He specializes in the care of acute and chronic musculoskeletal, sports and spine conditions. A former collegiate golfer and current competitive amateur golfer, Dr. Creighton's research interests focus on the complex biomechanics of the golf swing as it relates to injury prevention and recovery.
How to keep your crew athlete injury-free this season
Want to know how you can keep your crew athletes healthy and injury-free throughout their season? Join Shane Foley, DPT, Ashley Moriarty, DPT, ATC, and Heidi Hunsberger of Greenwich Crew to prepare for the coming season. They will discuss how having open and honest conversations about your athlete's performance will actually help uncover potential injuries. They will also share tips on how to ask the right questions about aches and pains to reduce risk of injury and lead to more successful seasons. Plus, learn how open conversations, well-balanced strength and conditioning programs and proper recovery techniques can help maximize the effect of training sessions for the desired outcome.
Shane Foley, DPT, OCS, CSCS
Shane Foley, DPT, OCS, CSCS, combines his advanced research, knowledge and skills as an orthopedic specialist along with his background as a certified strength and conditioning specialist to provide the optimal analysis for his patients. He is also passionate about helping his patients return to sport following an injury.
Ashley Moriarty, DPT, ATC
Ashley Moriarty, DPT, ATC, is a physical therapist, certified dry needling specialist and the New Canaan Site Lead. Before joining Performance, she worked in Boston with both high school and collegiate athletes.
Heidi Hunsberger is the assistant director and co-head coach for Greenwich Women's Crew. A two-time All-American coxswain, Hunsberger directed the UW lightweight eight to IRA national titles and EAWRC conference titles in 2008 and 2009. As head coach at GWC, Heidi has helped the varsity women's team qualify the Lightweight 8+ for US Rowing Youth Nationals in 2014 & 2015.
"I'm not a runner, but..." — Demystifying the world of running
Over the past year, we have seen more people running than ever before. People of all skill levels took up running to stay active, get out of the house or replace their gym regimen. After choosing running shoes, finding new trails and building up your stamina, you may now be thinking, "where do I go from here?" Maybe you want to build up your confidence, or you want to find a community to run or walk with.
Join Britt Gunsser, DPT, CSCS, and Darien and Ridgefield Running owner Megan Searfoss as they discuss the recent spike in new runners, how apps like Strava brought people together when they were apart, and how to find your place in the world of running. Whether you prefer to walk, jog, hike or run, there's a spot for you.
Britt Gunsser, DPT, CSCS, has completed extensive work on running rehabilitation and is an RRCA Running Coach. As a physical therapist, Britt takes a comprehensive approach to recovery, taking an in-depth look at the causes of injury and conditions to provide the best treatment possible.
Megan Searfoss is a mother, author, participant in the Ironman World Championships, and owner of Ridgefield and Darien Running Companies. Megan is passionate about engaging women to make health and wellness a part of their lives through Run Like a Mother, a company she started in 2008.