Reserve a time online:
1. Choose a date and time slot.
2. Sign in to your Mindbody account, or
3. Create a Mindbody profile, which takes less than a minute.
4. Complete purchase.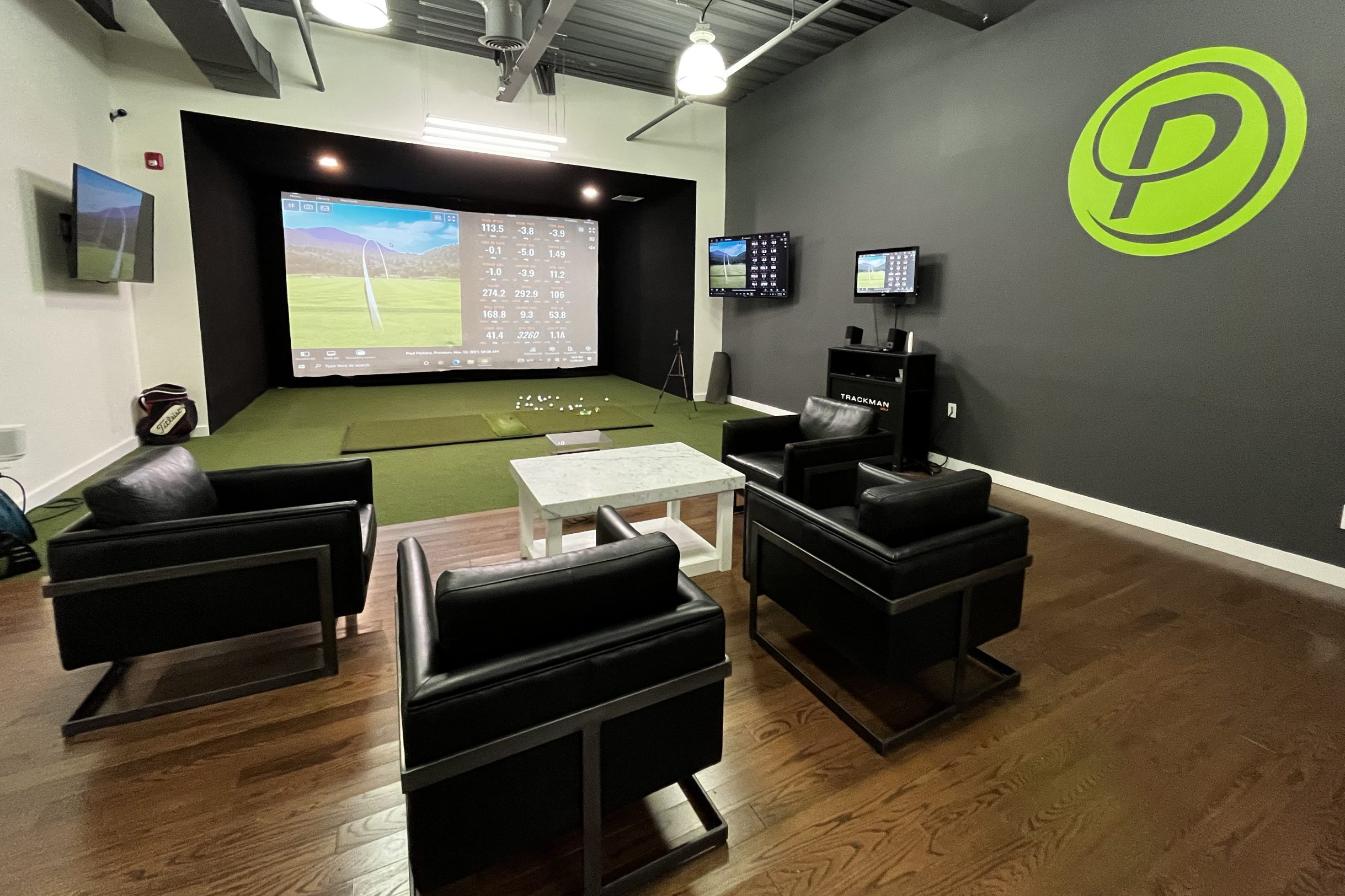 At our facility in New Canaan at Halo Fitness, you can find our full golf simulator powered by TrackMan technology.
Through TrackMan technology and its groundbreaking radar systems, golfers can get precise and reliable feedback on swing and ball metrics. This allows the golfer to make real time adjustments and develop proper swing mechanics that get reinforced with each swing. By providing club delivery, ball flight, launch and landing data, the TrackMan's actionable feedback is essential to improving your golf game, especially in the off-season.
Play simulated golf
TrackMan technology is also set apart from its competition through its seamless integration with a full golf simulator. This allows the golfer to get immersed in a larger than life golf experience. Enjoy a round on the world's best courses — without having to leave the state: Albany GC, Bethesda CC, Glen Oaks Club, Muirfield Village, Royal Troon, Shelter Harbor, St Andrews and more. Play as a single player or bring friends out for a foursome.
Golf practice
With the simulator, golfers can see real time club and ball data analysis, including club speed, club path, launch angle, carry, face angle, spin rate and ball speed. Improve your game with lessons from golf professionals or rent the practice bay for yourself or as a foursome, and get the most out of the state-of-the-art technology. You will also have access to a golf expert who can help you analyze your data, no matter the level you are at.
PRICING AND MEMBERSHIPS
Reservations on the golf simulator start at $50 per hour.*
Bring your own golf clubs, or use our Ping iron set (for right-handed golfers).
*10 pack receives 5% discount
20 pack receives 10% discount
Tax not included.
Memberships
Limited number of memberships available. Must commit for season; not eligible for package discounts. Other restrictions may apply.
Peak season (Nov. — April): $300 / month
Off-peak (May — Oct.): $200 / month
Yearly: $225 / month
ADDRESS
45 Grove Street
New Canaan, CT 06840
HOURS
Monday – Sunday: 8am – 6pm

*After hours reservations available upon request. Must be scheduled in advance; additional rates apply.
FAQs
How many people can use the space?
We allow up to six people in the space per reservation.
How long does it take to play a round (9 or 18)?
We recommend booking at least two hours for a round.
Can I just play a round and/or hit balls, or do I have to work with a pro?
When you book the golf studio, the space is yours! During your first visit, our team will give a quick orientation to the technology and get you set up based on your needs.
If guests would like a more in-depth tutorial of how to leverage all that TrackMan technology has to offer for practice, our golf experts are there as a guide.
If you would like to take your practice to the next level with a golf professionaL, we can connect you with our network of excellent golf pros.
Do I need to bring my own clubs?
We advise to bring your own set of clubs for your reservation. We do have a PING (right-handed) golf set available for those who don't own clubs.
What is your cancellation policy?
We ask for 24 hours in advance for reservation cancellations to avoid the cancellation fee.