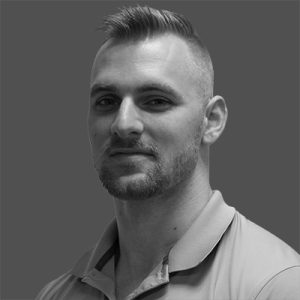 Physical Therapist
BS in Athletic Training, University of Connecticut
DPT, University of Connecticut
---
Certified Athletic Trainer (ATC)
Certified in Dry Needling
Titleist Performance Institute Certified Medical Professional — Level 1 (TPI-M1)
Selective Functional Movement Assessment Certified
---
Jacob Ober
Central Naples
"I empower people to live better by looking at every patient as an individual."
Jacob Ober, PT, DPT, ATC, TPI-M1, is a physical therapist, dry needling specialist, certified athletic trainer, and TPI certified medical golf professional based in Central Naples.
As a physical therapist, Jacob looks at every patient as an individual and stresses a holistic approach to health care. He evaluates each patient using all four pillars of optimal health, knowing that a whole-body approach will produce better results for clients. He is also a strong team player; he believes that healthcare professionals should consult with their interdisciplinary team to create a comprehensive plan of care for their patient across all disciplines to ensure success for each patient.
Jacob was an athlete who sustained a serious athletic injury, which exposed him to the field of physical therapy. After experiencing its benefits, he wanted to learn all that he could about physical therapy so that he could help treat others and get them back to doing what they love most.
Jacob has provided sports medicine athletic training services for Greenwich Youth Lacrosse and New Canaan Youth Lacrosse. He also has experience providing sports medicine athletic training for the University of Connecticut's football, ice hockey, and field hockey teams.