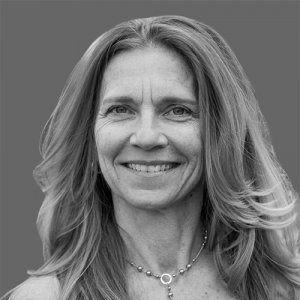 Yoga Instructor
BS in Industrial and Systems Engineering, Georgia Institute of Technology
---
RYT 200 HR Yoga Certification
American Red Cross Adult CPR/AED Certification
Yoga Alliance Member
---
Jerre Skeats
Westport
"Accepting the ownership of your own journey is very freeing. As a teacher, accepting my role in my clients' successes and failures keeps me focused on the details and refinements which makes all the difference."
After spending 10 years in consulting and logistics management, Jerre retired to raise her two children. When her youngest went to college, she realized she wanted to continue working and make an impact on others' lives. Having spent 24 years practicing yoga along with an active lifestyle, Jerre turned to teaching and sharing the benefits of that lifestyle in an accessible way.
Her favorite quote from Buddha is "fill the jug one drop at a time." She believes that patience, discipline, and celebrating incremental change is the key to success and fulfillment, rather than focusing on a large goal that sounds unattainable and difficult to complete. Each day is "drop in the jug" and should count as a victory. This philosophy plays a powerful role in Jerre's approach to her teaching, and she seeks to live by that philosophy herself. Jerre believes the most important part is to meet the individual wherever they are on their journey; she chooses not to force expectations, but instead encourage baby steps as a more sustainable and affective way to change.
Jerre is also a firm believer that going outside is the best medicine. She is an avid racquet sport player (tennis, paddle and pickle ball), and she enjoys golf, road biking, mountain biking and paddle boarding during the summertime. When winter comes, she turns to skiing and snowshoeing.
HAVE A QUESTION? ASK

Jerre