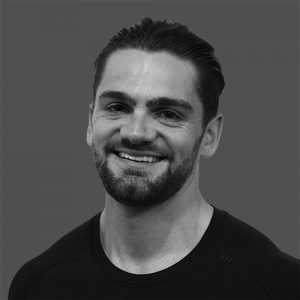 Golf Trainer
BA in Mass Communications, Iona College
---
Certified Functional Strength Coach (CFSC)
Titleist Performance Institute Certified Fitness Professional — Level 2 (TPI-F2)
TPI Power Level 2 Certified
Precision Nutrition Certified
---
Tim Vallely
Greenwich/New Canaan at Halo
"Accountability is key. I want to help people control the controllables: stress levels, sleep, diet, and anything else you think of."
Tim Vallely, CFSC, TPI-F2, is a golf trainer and personal trainer at Performance. He originally wanted to be a sports journalist, but soon after college he found himself with his boots on the ground, getting a personal training certification and working at a boot camp in Massachusetts. After working at Mike Boyle Strength and Conditioning, Tim fell in love with the performance side of training and moved onto obtain his certified functional strength coach certification.
Tim has worked with all age groups and all types of athletes, training them in a functional and safe manner. He worked as a strength coach for the Milton Academy's basketball team when he started picking up playing golf. His brother-in-law, a PGA golf pro on Golf Digest's Top 50 list, influenced Tim to venture into the realm of golf training.
While working toward his TPI certification, Tim made sure to surround himself with smart and influential people in the golf industry — who better to learn from but from the best of the best? He is now working to complete TPI Level 3 in December.
As a trainer, Tim is excited to supplement his own expertise with medical knowledge from the team at his disposal at Performance. He strongly believes in the importance of providing his clients with a team to attend to every part of their health and fitness journey. Tim enjoys bouncing ideas off his teammates, believing two heads are far better than one.
He also understands the importance of incorporating stress management into his programs: the readiness of the client determines the optimal session and the client's performance, not the program itself. Depending on the client's readiness, Tim will tailor the session to meet the client's needs, such as focusing on recovery and mobility if the client had a rough day or capitalizing on a good night's sleep with a full body day.
In his free time, Tim loves to spend time outdoors, ideally as close to the beach as possible — he hates being landlocked. You can often find him paddle boarding or spending time with his friends and family, especially playing with his nephews and nieces and teaching them how to swim.