How athlete screens prepare a team for their season
Athlete screens are essential to mitigating the risk of injury and optimizing performance prior to a season. Here's what one coach had to say about the process.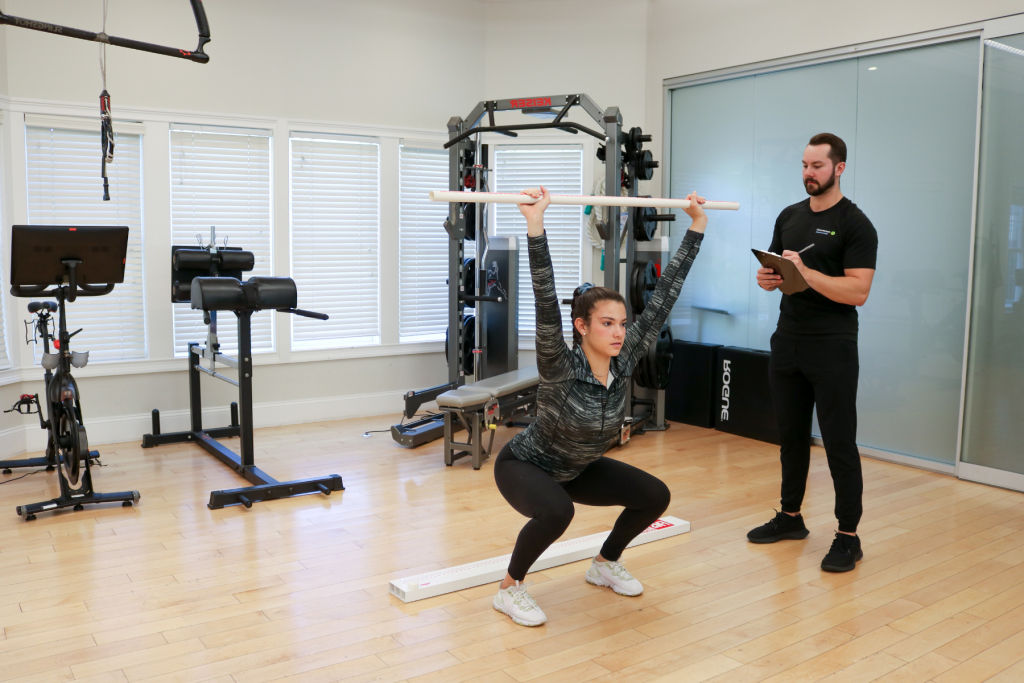 Athlete screens are an incredibly useful tool in helping mitigate the risk of injuries, optimize movement and maximize performance — just ask Ray Marschall, coach for the Greenwich High School Boys' Tennis and Soccer teams.
Ever since he started coaching 13 years ago, Ray has dealt with athletes starting off their seasons with injuries. Years ago, at the soccer team's first match, nine of the roster's players were injured, the majority of whom had quad and hamstring strains. And in tennis, he's seen too many early-season shoulder injuries.
"There's little reason for healthy and fit teenagers to have those types of injuries," Ray said. He started thinking about how to prevent future injuries and decided to develop an off-season training program to help the players be in shape and ready for future seasons.
The following year, only three athletes started the season off with an injury.
Recognizing a need for injury prevention programming
While Ray was able to lower the number of athletes who started off their seasons with injuries on his own, three was still too many. Over the years, he has realized the need for preventative care; teenagers often find it difficult to keep up with the changes their bodies experience as they mature and gain muscle mass and strength.
"From a coaching perspective," Ray said, "I really don't want any player to have an avoidable problem at the start of a season."
So when Ray, who himself has done physical therapy at Performance multiple times, found out that Performance Optimal Health offered athlete screens, he jumped (well, jumped is a bit of exaggeration given that he'd just come off his second hip replacement surgery!) at the chance to help his athletes. "This was a great opportunity for my guys to hear honest, unbiased and professional medical feedback about their physical strengths and limitations and learn how to listen to and take care of their bodies," he said.
What is an athlete screen?
For twenty years, our team at Performance has worked with youth athletic teams in Connecticut and New York to maximize player performance, optimize competition readiness and minimize injuries through sport-specific training and injury prevention programming.
Athlete screens are an essential part of this effort; we screen teams in our communities right near the end of their off-season to ensure they are prepared for the season ahead. Every athlete's readiness and physical state is unique, requiring personalized prescription for training and recovery. Our team of specialists perform a set of functional movement screenings on each athlete to evaluate the following key performance areas:
Speed and agility
Endurance capacity
Power output and strength
Mobility and range of motion
A results report and personalized action plan is provided to coaches, parents, and athletes, detailing areas of risk and areas for optimization.
"The goals are to analyze the requirements of athletes to move and perform within the demands of the sport, and then inspect each deeply. From there, we identify if there is pain or dysfunction that needs to be addressed. Finally, we provide recommendations to help address the issues picked up on the screen," Shane Foley, DPT, said. Shane is the Greenwich Site Lead who develops athlete screens for the Greenwich community and led the charge with the most recent screen for the Greenwich High School Boys' Tennis team.
Paving the way forward
Ray was pleased with the results of the screen, to say the least. "The consistency Shane Foley and the other physical therapists provided was terrific. They're always completely focused on the physiology and what is best for each patient or athlete," he said.
Now, he hopes that his athletes will be able to take the results and recommendations from the screen and apply them in their play. By looking at the results "in the green," the athletes will know that they can continue doing what they've been doing. But what they will need to pay attention to are the yellow — and especially the red — areas that need improvement.
The results are also helpful to Ray as a coach, who is eager to use them in his training. "I always ask the guys during tennis matches, 'What's working? What's not? What do you need to change?' I want them to recognize what's going well, such as their forehand is solid today, but also recognize what is not working and why, like missing some deep overheads, which might be due to a lack of flexibility or upper body strength, all the while using Performance's recommendations and exercises as a guide."
"I really hope that at the end of the season, they will be able to look back and say 'wow, that screen really helped me,'" Ray said. (He even hopes they'll admit it to him, but he's not holding his breath!)
Copyright © Performance 2019. All right reserved.
Sign up for our mailing list to learn more about Performance, stay up-to-date on our offerings, and receive our newsletter.
Copyright © Performance 2022. All rights reserved.
Digital Marketing by Rebel Interactive Group