Women & Our Bodies: Taking charge of menopause through an integrated wellness approach
This informal gathering of women was an opportunity to share stories & gain valuable insights about our ever-changing bodies with experts in women's integrative health, nutrition, fitness and pelvic floor.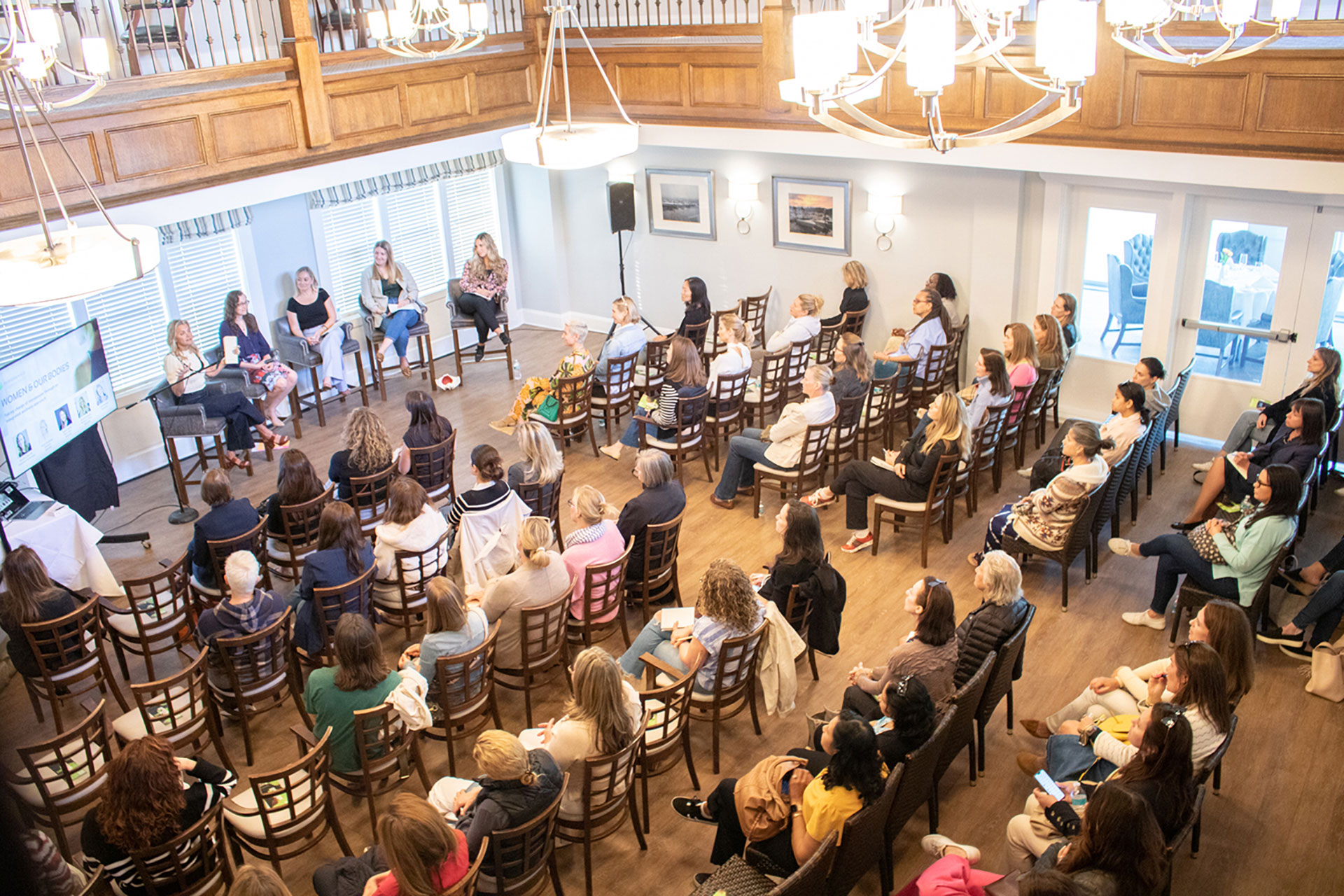 There is no "cure" for menopause, but there are ways to counteract the effects.
"So many women think that they have to go through perimenopause and menopause alone," but that could not be further from the truth," Jessica Klecki told the crowd. Jessica Klecki, PT, DPT, is a pelvic physical therapist at Performance Optimal Health, and she was on a panel of women's health specialists at Performance's first event geared toward women in their middle years.
The intimate gathering, "Women & Our Bodies: Taking charge of menopause through an integrated wellness approach," was hosted by the Greenwich Water Club and attended by over 80 women from Greenwich, CT, and the surrounding areas.
The Midlife Truth Project founder Julie Flakstad was joined by a panel full of women's health experts, each representing a key area of health: Dr. Bronwyn Fitz, MD, who is board certified in ObGyn and Integrative Medicine, certified dietetic nutritionist Koren Bradshaw, women's health fitness specialist and pelvic physical therapist Danielle Pasquale, PT, DPT, and Klecki.
"Now that you're in your middle years, you've probably thought, 'this is it! The hard part is over, my kids are older, and I can relax.' And then menopause hits. It's like we can't catch a break!" Julie Flakstad exclaimed, drawing laughs from the crowd. "But that is why we are here to help you find the tools you need to take charge of this part of your life, and not let it control you," she continued.
Over the course of the evening, the panel discussed how a team approach to healthcare can best support women going through the complications that come with age. Dr. Fitz started the talk off by stressing the importance of surrounding yourself with people that make you feel heard, something especially crucial when choosing your ObGyn.
"Your ObGyn should be there to guide you, not dismiss your concerns or pain," Dr. Fitz explained. There are many tools that can be used to combat the effects of menopause, such as hormone replacement therapy or vitamin supplements, but the best answer is usually an integrated approach.
"And it's not just about balancing hormones. We need to find balance in everything: hormones, nervous system, metabolism, relationships, and help people in all arenas of life, not just gynecology," Dr. Fitz explained.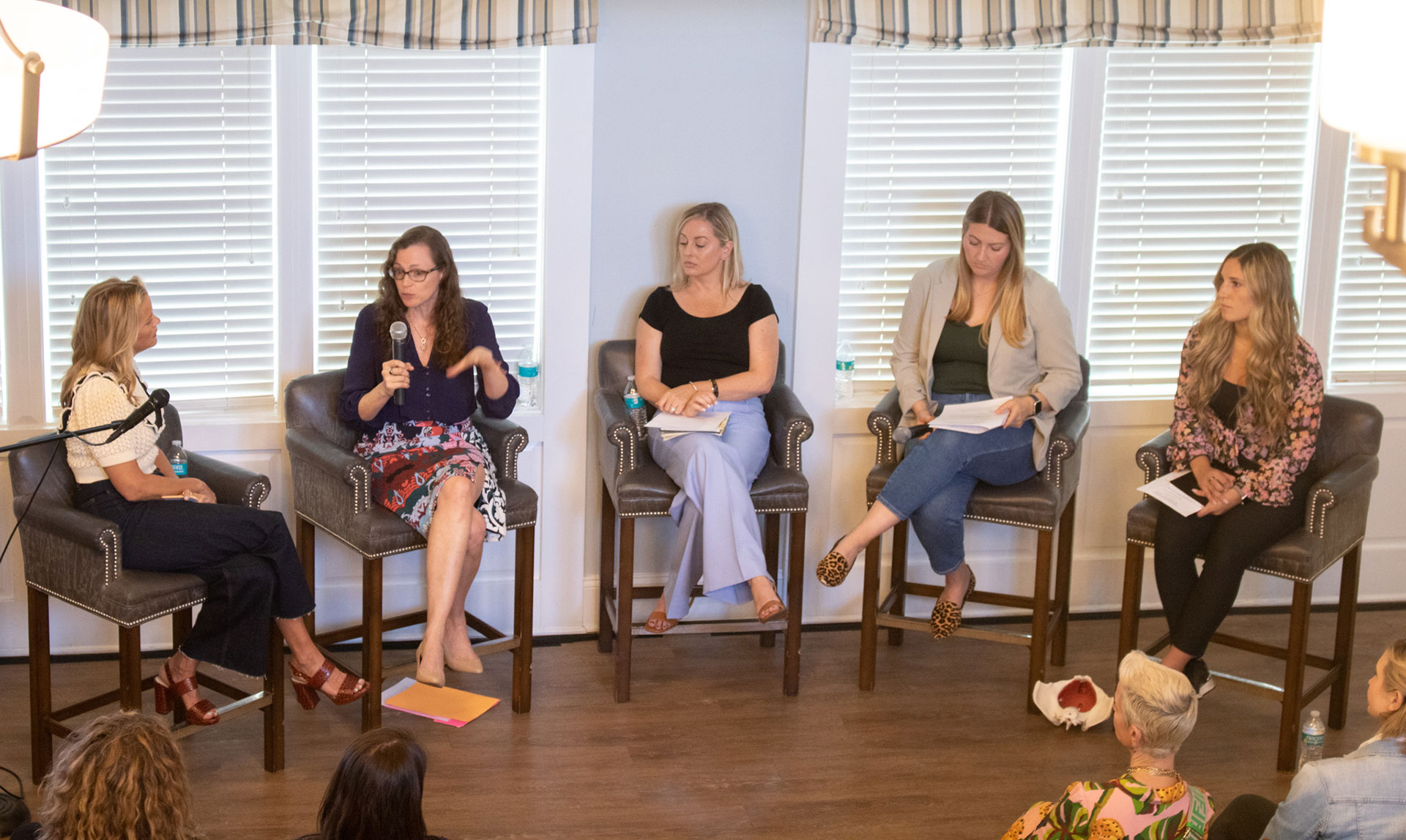 As they approach menopause, many women start to see changes in their metabolism, gaining weight even though they continue to exercise and maintain the same diet. This requires a change in diet, with a larger focus on protein, healthy fats, and complex carbohydrates.
"Your most important goal during this time is to keep building muscle, support bone strength, support brain health, and keep inflammation low," nutritionist Koren Bradshaw explained. "But nutrition is only one part of the equation. Any changes you make at this time need to be supplemented with enough exercise, sleep, and stress management."
Fitness specialist Danielle Pasquale expanded on that, saying, "you need to shift your focus from weight gain, calories, and appearance to focus on your strength, mobility, and longevity." Decreased estrogen levels lead to bone loss, making strength training critical to counteracting it.
Menopause also affects your pelvic floor, which also depends on estrogen to stay healthy. This can result in leakage, urinary incontinence, prolapse, or even pain during intercourse.
"Unfortunately, many of these pelvic health issues go untreated and undiagnosed because of one simple fact: It's a little weird to talk about, but it shouldn't be! Pelvic physical therapy can actually help people manage or treat these issues, and shouldn't be ignored as an option to prevent pain or discomfort," pelvic physical therapist Jessica Klecki emphasized.
"Aging can cause a lot of complicated emotions and various physical changes, but with a comprehensive team approach, you can take charge of your menopausal years and improve your quality of life," Pasquale assured the crowd.